We are Bowen Island's eBike company: Bowen eBikes. We rent electric bikes from Snug Cove (20 meters from the ferry). We love exploring this island on our bikes and hope you will too!
Bike Maintenance – Open in Winter
See our maintenance page to book
We repair bikes too! Regular bikes, mountain bikes, road bikes, gravel bikes. We have a large selection of products to purchase over here, or drop off your bike! See our maintenance page to book, and for info on how to schedule bike maintenance.
Conversion Kits – Open in Winter
We convert regular bikes into eBikes. We can do almost any bike, or make your eBike more powerful. While we have some motors and batteries in stock, we may have to order yours in. Come on by the store to see what we have in stock for you.
How Can I Rent From You? – Closed until March 6, 2023
CLOSED for the 2022 rental season. Opening March 6, 2023. Please send us an email if you would like to book in for the 2023 rental season.
Same Day – Walk In Only. Once it is the day of rentals, we operate on a first come first serve basis. For holiday weekends, we recommend booking a week in advance.
Ahead of time – Reservations: While we are currently setting up our new booking system, please email rentals@bowenebikes.ca or call 778-956-7946 between 10am and 5pm. In your email, please answer the following questions:
How many people are biking?
Are you bringing your own helmets? (we give you a discount if you do.)
What day would you like the eBikes?
What time would you like the eBikes at?
How long would you like to go for?
Is everyone 16 or older in your group?
What is the best phone number to reach you at?
In Person: Walk off the ferry, turn left, and say hi! We are a 20 meter walk to the left when you walk off the ferry. Note that we may not have an eBike prepared to go for you right away. Please call, or email in advance so we can sort the paperwork out, and have an eBike ready just for you and your group. For August and early September we recommend booking at least a week in advance, and two weeks for groups over 4 people.
Where Can I Cycle To
Artisan Square
Beaches
Hiking Trails
Artists and farmsteads around the island
Remote view points
Pack a picnic and head off to a remote beach (our favourite).
…the list goes on!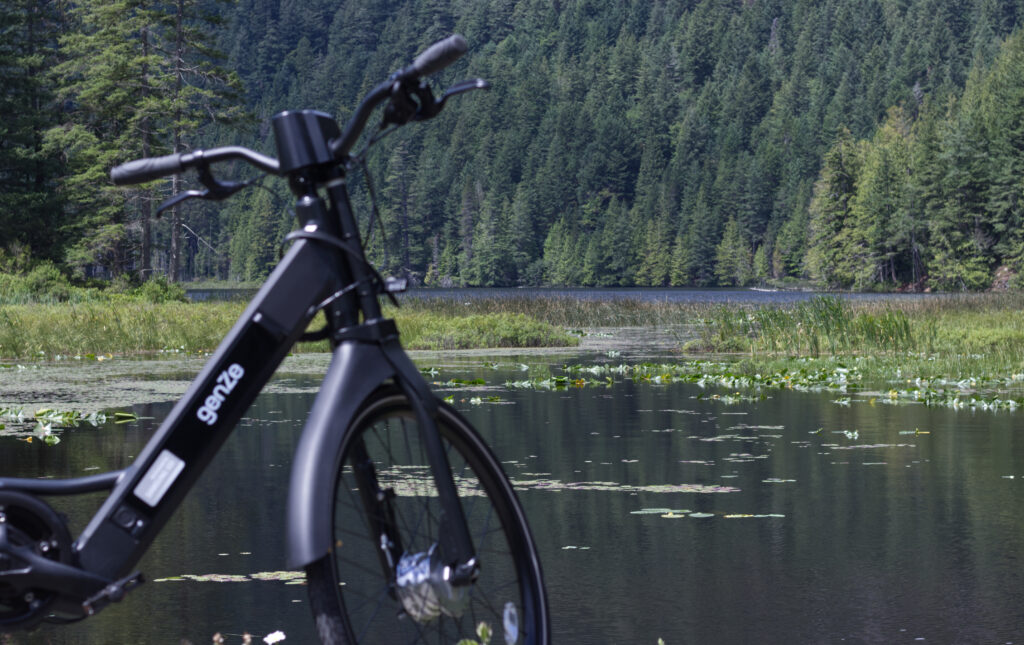 Flexible eBike Pickup
Arriving by ferry?
Walk off to our store, we are at the fantastic Union Steamship Marina. We are a 20 meter walk from the ferry to your left.
I hear I can get a discount?
Yes, are you staying at one of our partner locations? Ask your host if their hotel, BnB, yoga studio, or other accommodation has partnered with us.
Did you bring your own helmet? Save even more!
eBike Drop-off
All eBikes must be returned to our store.
What's Included
Each rental includes a lock, a fully charged battery, and a charging cable. Please lock the eBikes when not in use. While we have some helmets here, and won't turn you away if you forget yours, we encourage you to bring your own. That's why we're giving a discount to anyone who brings their own.
The eBikes
The eBikes are Class One, pedal-assist, and capable of speeds up to 24km/hr. They do require you to spin the pedals for the electric motor to kick in. Bowen Island is a hilly place to explore and electric assisted biking is key to making the most of your visit.
Accessibility
Unfortunately, due to BC law, those under 16 can not ride any power electric bike. Please write into your MLA if you would like to see this number changed.
Above 200lbs we see a decrease in battery duration and motor assist. The absolute max weight is 247lbs.
COVID-19 Changes
COVID-19 has affected us all. There are some changes we are making to our program to ensure everyone has a safe and enjoyable visit.
Helmets are required to rent our bikes. Please bring your own helmet. If you cannot produce a helmet at the time your ride is set to begin, or rent a well-fitting helmet from us, we will not be able to release the eBike.
Sanitization between each rental is standard.
Anything I shouldn't do?
Don't try to get on the ferry with your eBike. Our business is based on Bowen Island and we'd like to keep all of our eBikes on island.
Don't try to pop a wheelie on your eBike – these are not trick bikes. Using the eBikes for tricks, wheelies, jumps will result in a $50 damage deposit being claimed.
Don't ride the eBikes in the pump track park.
Don't skid, or lock up the rear wheel to brake. You're wearing down the tires for the next person!
DON'T ATTEMPT any maintenance. We have hydraulic brakes on most of our eBikes. Do not attempt to remove the hoses for these hydraulic brakes.
Don't ride on a flat tire. Call us and we will get you a new bike or pick up the broken one, or change the tire for you.
Don't 'pick' at the batteries or labels on the bikes.
Refunds & Cancelation policy
You can cancel up to 24 hours before your ride is set to begin and receive a full refund. Send an email to rentals@bowenebikes.ca or call 778-956-7946 and leave a voicemail with your name, phone number and scheduled reservation time.
Showing up without a helmet: BC Law requires you to wear a helmet when renting our eBikes. If you don't have one, we have one here for you for a small charge. We will not be able to process refunds for people who show up without a helmet if we don't have one available for you.
Snow, Smoke, Heavy Rain: We do not rent in snowy or icy conditions, and terrible air quality conditions. You will not need to worry about our 24h cancellation policy if your health is at risk. We do not cancel for light rain or mist. We will cancel the eBikes in heavy rain conditions, we don't like the electronics getting wet!
Showing up late: We can accommodate delays in your arrival time. Once paid for these are your eBikes, and we will happily hold onto them until you show up. Please check the ferry schedule to make sure you know when you should be in Horseshoe Bay making sure to leave EXTRA time in summer, especially for those driving on the ferry.
Should you have any issues with the operation of your eBike, please call us. We will drive out to meet you on the island with a new eBike, if one is available. If we cannot get your eBike working, or get you a replacement, we will happily provide a refund for your remaining rental time.