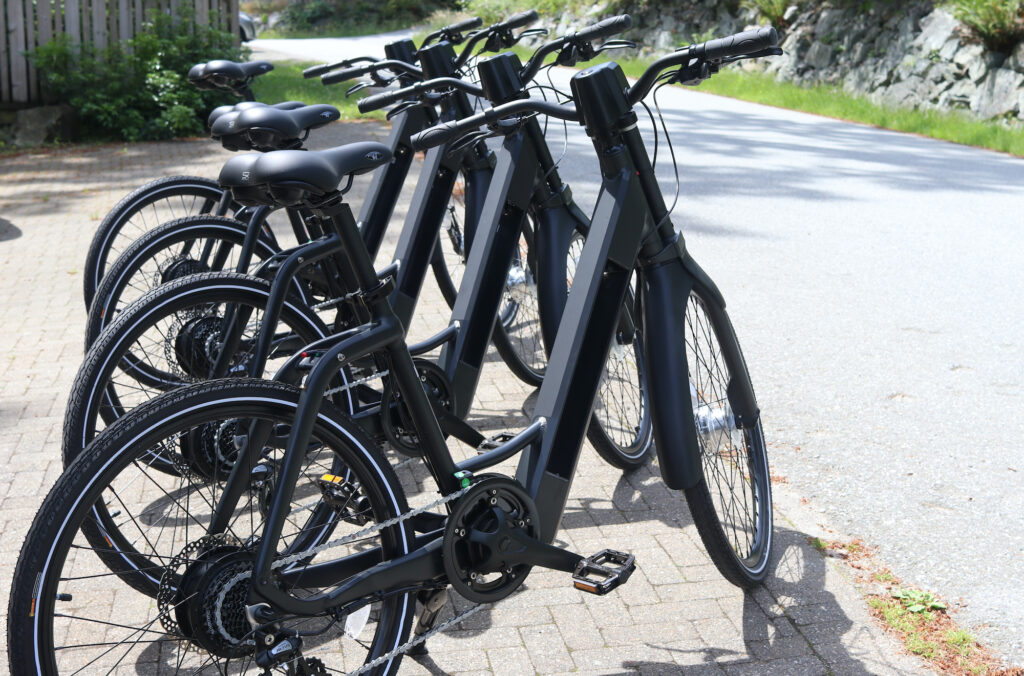 Discounts
| | | |
| --- | --- | --- |
| Item | Discount | Application |
| Bring your own helmet | -$4.00 | Per rental |
| Partner Hotel/AirBnB/Marina/Lodge. Ask your host if they have partnered with us. | 10% | Per rental |
| Groups of 10 or more | Please inquire | |
Prices
| Item | Price / bike | Time |
| --- | --- | --- |
| Bring your own helmet | -$4 | per rental |
| eBike | $44 | 2 hours |
| eBike | $54 | 3 hours |
| eBike | $59 | 4 hours |
| eBike | $64 | 5 hours |
| eBike | $74 | 6 hours |
| eBike | $84 | Full Day (8 hours) |
| eBike | $104 | Overnight (24 hours) |
| eBike | $184 | Weekend (48 hours) |
| eBike | $254 | Weekend + 8 hours ** |
| eBike | $274 | Long Weekend (72 hours) |
| battery drop-off | $50 | * |
| pickup (w/o trailer) | $50 | * |
| pickup with trailer | $90 | * |
| Return After Close | Normal rate + $25 / hr, $25min charge | All eBikes must be back before closing time. |
All prices exclude tax
* 30-60min arrival (dependant on battery availability and your distance from our offices)
** Weekend + 8 hours lets you pick up the bike on Friday morning, and drop it off Sunday night, OR pickup the bike on Saturday morning and drop it off Monday night. This is the best deal for making the most of your weekend with an eBike for transportation. We will be here all weekend to support you should something go wrong as well, wether it be fresh battery, or replacement bike.
If you run out of battery power while abroad, we are happy to come pick you up, or drop off a fresh battery (depending on availability) for a fee. Your eBike will still pedal without the battery charged.
We encourage you to bring your own helmet during Covid 19, and save.
If you swing by our office, we will gladly exchange a drained battery for a fresh one, depending on availability, for free. Please call ahead to ensure we have a battery waiting for you.